Play With a Capital "J"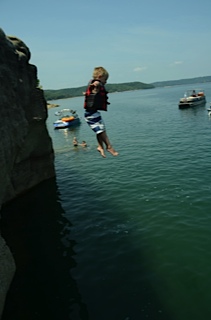 We were sitting in lounge chairs, simply observing the childhood work of play.  The focus of the four children in our midst was clear. The only tasks at hand were intensive exploration, physical challenges, and psychological attempts to prolong bedtime. 
Five-year-old wit. Two-year-old grace. Two-year-old repetition. Five-year-old fearlessness.
The cousins were learning about one another, and we were learning more about them. At times, I sat astonished as I observed things in my own children that had gone unnoticed during the flurry of everyday life. During those moments, in particular, did the importance of this family vacation become even more clear. 
After a few sunrises, our cell phones sat silent. More emails were left unanswered. Our adult lives had shifted from the pace of efficiency, to the childhood pace of discovery. 
We began to join them in the delicious work of play. 
True play can be unexpectedly revealing. It will lift away some of the pressure from the perceived importance we create in our daily work. It can help us to find bits of passion that had been buried under repetitious daily tasks. It can fuel an intensity that had been hidden behind the grocery store runs, the carpool lane, and homework time. It can physically remove invisible tension, and allow us to feel brief periods of weightlessness.
Play can also unexpectedly inspire us. This inspiration often erupts when we witness the unabashed fearlessness that only someone without the knowledge of risks can possess. It can even encourage the most cautious of adults (ahem) to rise to the occasion, and take a jump into the unknown. 
Down. Down. Splash. 
Thanks to nephew J, and the rest of the crew, for allowing all of us to join you in your work of play. 
It was truly our pleasure.